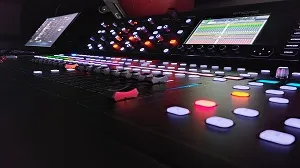 Audio Systems
From small PA's to Festival and Event sound systems, we have you covered.
Corporate systems, Party systems, and large PA systems that cater to thousands of people with ULX microphones and Turbosound speakers systems - no job is too big or too small.
Bands, DJ's Speaker's, Houses of Worship, Conventions, Displays, Field Events, Broadcast - you name it, we know it, and we live and breathe it from console to speaker, microphone to streaming content.
AusDigi has over 30 years experience in audio visual and our in-house licensed technicians can assist with planning, technical aspects, sound stage measurements and streaming to ensure your event is not only designed to perfection but also compliant and safe !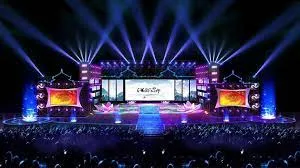 Lighting and Big Screen Systems
AusDigi supplies everything from small party light beams for parties and DJ's up to large scale event DMX controlled intelligent lighting systems. Hazers, effects units, smoke and cold spark machines.
Our Big Screens are all outdoor rated for both indoor and outdoor use, and have a fine 3.9mm pixel pitch for high quality HD screenings. AusDigi supplies all the equipment required to showcase your event on huge screens whether it be a corporate presentation backdrop, live stream or simply a large impact Big Screen TV for the next world cup. AusDigi also offers smaller conventional TV screens for conventions and corporate hire.
AusDigi can also supply Gobo lighting systems with your company logo for showcasing products and brand enhancement at trade shows and events.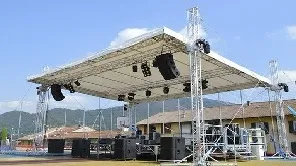 Stage and Truss Systems
Whether you need a small stage to present your product from, or a large high stage with full trussing system for a Festival, AusDigi can supply, deliver and fit your staging solution and ensure it is safe for your clients or party go-ers.
From a simple stage to an event system for bands, simply choose the size that fits you, add PA equipment, big screens, and lighting and bring your concept to life.
AusDigi can also assist you with pre-planning, qualified technicians and riggers, and even set it up for you, safely and within budget.
Feel free to reach out to us to discuss your unique requirements no matter how big or small.